The Fort Wayne Philharmonic announced a series of concerts and activities under the new banner, Fort Wayne Philharmonic Presents!. Events will be produced at various locations throughout the city and include a Violins of Hope retrospective with violinist Vadim Gluzman, and a celebration of the Sestercentennial of the great composer's birth with a mini Festival called Beethoven@250. The first in this novel series features the Fort Wayne Philharmonic Youth Symphony Orchestras performing the great German master's monumental 5th Symphony and continues with an all-Beethoven sonatas concert. Christmas at the Clyde highlights the talents of Tony DeSare's jazz trio and Broadway singer Capathia Jenkins. Philharmonic donors, subscribers, and past ticket holders will receive exclusive invitations to these events.
See below to learn more and for program details.

Thank you for your support.
Thank you for your continued support, kindness, flexibility, and patience as we navigate through this unprecedented time in our community and country. Your continued generosity is building a strong foundation for future generations and will help keep the music playing in all of Northeast Indiana long after this health crisis is over. With your help, we will set the stage for an even brighter future for the Philharmonic - right now. Thank you for everything your support makes possible.

MAKE A DONATION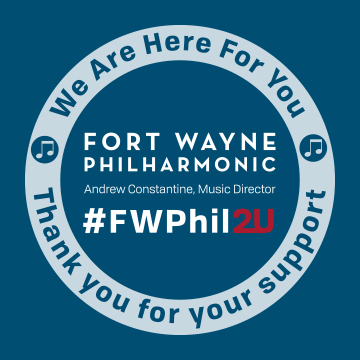 The ongoing COVID-19 global pandemic continues to create challenging times for all of our families, including yours at the Fort Wayne Philharmonic. It is with deep regret that we announce that our Board of Directors voted on November 3 to cancel all Spring subscription concerts through May 2021.
With your help and support, we remain committed to our mission through the recently announced slate of education and public engagement events scheduled for this fall. Please stay tuned for news about a similar schedule of events that will continue throughout the spring.
Please read the announcement below.
UPDATES
PRESS RELEASE
FAQs
Tune in for a wide variety of Philharmonic favorites offered just for you. From Musically Speaking Online Sessions, to WBNI/WBOI Weekly Programs and Educational Resources, there is something for everyone.

Our Mission
77 seasons after its inception, the Fort Wayne Philharmonic's ongoing mission remains the same—to foster and instill a lifelong love of symphonic music through performance and education. Music Director Andrew Constantine leads the Fort Wayne Philharmonic in concerts ranging from Pops to Masterworks, large productions and intimate performances.
8
Countries our musicians come from.
7
Age the average Philharmonic musician began studying music.
27
Minimum series performances annually (across eight counties!)