Live At Lunch at Allen County Courthouse April 27, 2018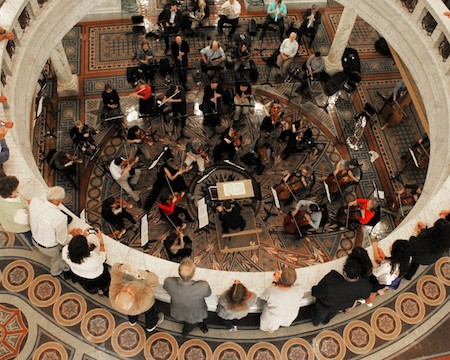 LIVE AT LUNCH: NEXT IN FREE, AROUND TOWN SERIES
AT ALLEN COUNTY COURTHOUSE
APRIL 27 AT 12 NOON
April 20, 2018: The Fort Wayne Philharmonic once again will perform a free, around town Live at Lunch concert at 12:00 P.M. on Friday, April 27, 2018 at the Allen County Courthouse Rotunda, 715 South Calhoun Street, Fort Wayne, IN 46802.
PLEASE NOTE: Cell phones and other electronic devices are not permitted in the Allen County Courthouse.
The Live at Lunch Series was inaugurated last season at Sweetwater Sound Cafeteria, Citizens Square, and the Allen County Courthouse. Conducting the 12 Noon concert on April 27 at the Allen County Court House will be the Philharmonic's assistant conductor Caleb Young. Subsequent concerts will occur next season.
Live at Lunch is similar to the Philharmonic's former pop-up series called Random Acts of Music. Designed to reach people in their own workplaces or convenient public settings, the experience is casual and relaxed. Audiences are free to sample part of the nearly hour-long concert or stop by for just a few minutes.Live at Lunch brings the great classics right to the public, on their own terms.
A cornerstone of the regional arts community, the Philharmonic performs great art in the most excellent possible manner, but is now actively creating novel ways to thrill unexpected audiences.
"Not only do we want to create, produce, and perform exceptional and compelling art. We want to grow our listener base by boldly innovating to connect with new groups of people," said Managing Director Jim Palermo.
"We hope that Live at Lunch will inspire listeners to engage more broadly and deeply. Attracting new venue partners and performing "on site" is a great way to engage people, even if for only a few minutes, because it places the Philharmonic in front of brand new audiences."
Live at Lunchis a new community engagement effort, part of a larger and more comprehensive series of programs and services offered to the community. These well-established programs, along with new and innovative engagement opportunities, are designed to reach even more community members than ever before.
For decades, programs have focused on creating memorable musical experiences for school children, especially those from underserved areas who do not have access to quality arts education, as well as older adults in the community with the goal to improve their overall state of wellbeing. Live at Lunch is designed to engage new artistic partners, venues, and programmatic collaborators to place the Philharmonic in front of a wider array of audiences.
Live at Lunch
Caleb Young, conductor
Fort Wayne Philharmonic
Friday, April 27, 2018 at 12:00 noon
Allen County Court House
715 South Calhoun Street
Fort Wayne, IN 46802
PROGRAM:
STRAUSS — Overture to Gypsy Baron
RAVEL — Le Tombeau de Couperin
III. Menuet
WEBER — Overture to Der Freischütz, J.277
HAYDN — Symphony No.104 in D major, "London"
IV. Spiritoso
GRIEG — From Suite Peer Gynt, Suite No.1, Op.46
Morning
Ase's Death
BEETHOVEN — Symphony No.1 in C major, Op.21
IV. Finale: Adagio - Allegro molto e vivace
SCHUBERT — Overture to Rosamunde, D.644
PLEASE NOTE: Cell phones and other electronic devices are not permitted in the Allen County Courthouse.