FAMED OPERA SINGER TO DISCUSS MUSIC AND THE MIND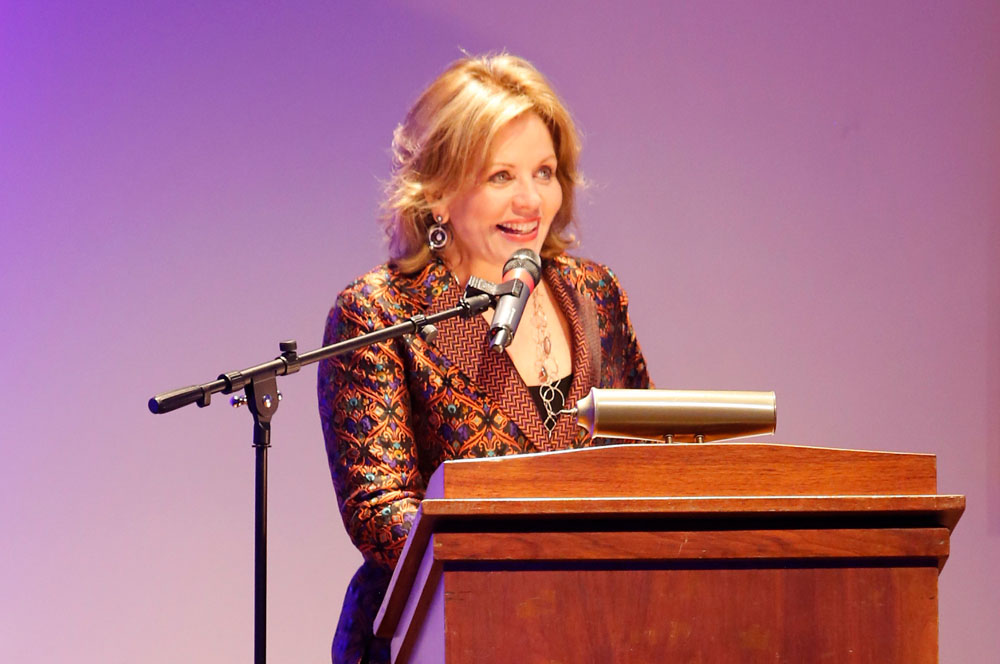 Arts United of Greater Fort Wayne and the Fort Wayne Philharmonic are pleased to present Music and the Mind, featuring the world-renowned star of opera and Broadway, Renée Fleming, on Sunday, October 7 at 12 noon, Arts United Center, 303 E. Main St., Fort Wayne, IN 46802. This event is free and open to the public. Please RSVP to fwphil.org/events/music-and-mind for guaranteed reserved seating or call the Philharmonic Box Office at 260-481-0777.
Fleming will appear the night before, October 6, at the Opening Night concert of the Fort Wayne Philharmonic's 2018-19 75th Anniversary Season at the historic Embassy Theatre. She will sing Richard Strauss's sumptuous and ultra romantic "Four Last Songs", as well as a wide variety of Broadway and film selections. The concert will begin with the world premiere of an overture for the Philharmonic's 75th Anniversary Season by American composer Joel Puckett.
Inspired by the Sound Health initiative she also spearheads at the Kennedy Center, Fleming has created Music and the Mind, a lecture presentation that explores the power of music as it relates to health and the brain. Topics include childhood development, music therapy, and cognitive neuroscience.
She invites experts around the country to present their research and discuss their experiences as part of her presentations. She also investigates the evolutionary role music may have played in creating community, as well as case studies and individual stories about how music has changed lives. In each location, she collaborates with leading neuroscientists, researchers, and music therapists. Fleming's goal is to bring this information to her audience and amplify the amazing work happening at the intersection of music, health, and neuroscience.
Renée Fleming is passionate about the central importance of music and the arts in our society. Many have felt moved or comforted by music, but scientists are now discovering that music can teach much about the brain itself. Music engages many neural regions at once, and evidence suggests that it can shape and even alter brain functioning. And the field of music therapy offers decades of experience supporting the healing potential of music in a range of healthcare settings.
Joining Renée Fleming on October 7 will be Sheri Robb, professor at the Indiana University School of Nursing and the director of Indiana Clinical and Translational Sciences Institute KL2 Young Investigators Program. The pair appeared together at a similar presentation by Eskenazi Health and the Indianapolis Symphony Orchestra in the fall of 2017.
Since September 2017, Fleming has presented Music and the Mind in 14 cities around the country – Salt Lake City; Indianapolis; Fredericksburg, VA; Philadelphia; Houston; Chicago; Washington, DC; Kohler, WI; Nashville; Charleston, SC; West Palm Beach; Jacksonville, FL; Stanford, CA; Los Angeles; and now Fort Wayne.
Renée Fleming has sold more than two million recordings, won four Grammy Awards and sang the national anthem at the 2014 Super Bowl, among numerous other honors. An Artistic Advisor at Large at the Kennedy Center in Washington, D.C., she believes that, through expanded public awareness, people from all walks of life can be encouraged to attend performances, be creative, and appreciate the value of music and the arts beyond entertainment.
For more information call the Box Office at 260.481.0777, or make a reservation at fwphil.org/events/music-and-mind.