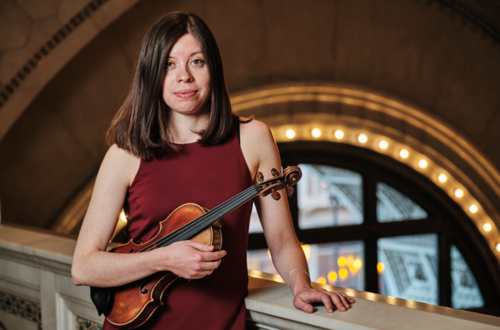 Born and raised in Illinois, Emelinda completed her Bachelor's degree in Violin Performance from the University of Illinois in 2012, studying with The Pacifica Quartet and Sibbi Bernhardsson, and her Master's degree in Music Performance from Northwestern University in 2014, studying under Gerardo Ribeiro. During her school studies, Emelinda participated in the Green Mountain Music Festival, Meadowmount School of Music, Triada Music Festival, Camp Musical des Laurentides in Canada and the Harpa International Music Academy in Iceland.
In 2014, Emelinda won the Concertmaster chair of the Civic Orchestra of Chicago, launching her career as a violinist in the Chicago area. Her many accomplishments include performing with the Chicago Symphony Orchestra, multiple performances at Carnegie Hall, radio performances in Chicago with YoYo Ma, and many other orchestras and chamber ensembles such as the Chicago Philharmonic, Elgin Symphony Orchestra, Quad Cities Symphony, Springfield Symphony, Chicago Opera Theater, Zafa Collective, Rockford Symphony, Peoria Symphony, Heartland Festival Orchestra, Southwest Indiana Symphony, Indianapolis Symphony, and Carmel Symphony. She has made guest soloist appearances with Trinity University Orchestra, the South Loop Orchestra, and the Civic Orchestra of Chicago performing such works as the Sibelius violin concerto, Sarasate's Zigeunerweisen, and the Brandenburg Concertos.
Emelinda has acted as teaching faculty at music festivals such as the Meadowmount School of Music, Illinois Summer Youth Music and the Elgin Chamber Academy and has been on the teaching artist faculty of the Glenbrook North and South High Schools in the Chicago area. In 2020 she founded Lieta Music, a chamber music performance and music education initiative that brings string quartet performances and masterclasses to neighborhoods, meeting places, restaurants, and schools in her community.
Emelinda maintains a private studio of violin and piano students in the Fort Wayne area, is on the teaching faculty for Harpa International Music Academy music festival and is proud to be a member for the Fort Wayne Philharmonic.