Youth Symphony Orchestras Fall Concert: Mozart and Monsters
Auer Performance Hall, Rhinehart Music Center, Purdue University Fort Wayne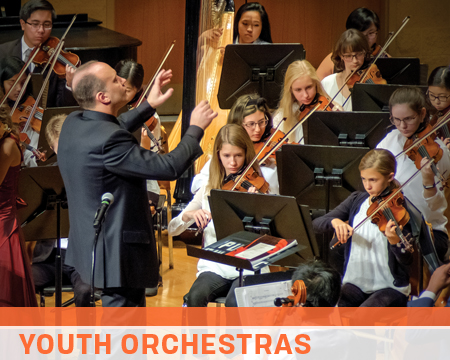 MOZART & MONSTERS
Troy Webdell, conductor
Natalie Young, soprano, appears courtesy of Heartland Sings, Inc.
Mikhayla Palicte, violin
Mikautadze Dance Theatre
Elizabeth Mikautadze, Director
JUNIOR STRINGS ENSEMBLE
Mozart - Eine Kleine Nachtmusik
I. Allegro moderato

Frizzi - A Monster Under My Bed!

YOUTH SYMPHONY ORCHESTRA
Frankenstein Lives!
Mozart - Symphony No. 25
I. Allegro con brio
Morris - Transylvanian Lullaby from Young Frankenstein
Mikhayla Palicte, violin
Vampire Diaries
Mozart - Queen of the Night (Der Holle Rache) from The Magic Flute
Natalie Young, Soprano
Mozart - Symphony No. 40
I. Allegro molto
Werewolf Supermoon
Glass - Concerto Grosso
Mozart - Overture to The Marriage of Figaro

For venue policies click here.
Subscribe