Star Wars: A New Hope In Concert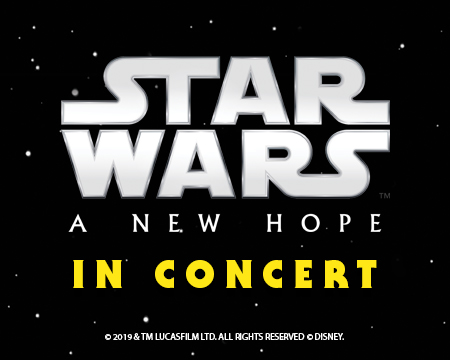 In Concert with the Embassy Theatre
and Fort Wayne Philharmonic
Caleb Young, conductor
"The Force is strong with this one..."
Set 30 years after Star Wars: The Phantom Menace, Star Wars: A New Hope, the fourth episode of the saga, returns to the desert planet of Tatooine. A young Luke Skywalker (Mark Hamill) begins to discover his destiny when, searching for a lost droid, he is saved by reclusive Jedi Obi-Wan Kenobi (Alec Guinness). A civil war rages in the galaxy, and Rebel forces struggle against the evil Galactic Empire, Luke and Obi-Wan enlist the aid of hotshot pilot, Han Solo (Harrison Ford). Joined by the quirky droid duo R2-D2 and C-3PO, the unlikely team sets out to rescue Rebel leader Princess Leia (Carrie Fisher) and make use of the stolen plans to destroy the Empire's ultimate weapon. In a legendary confrontation, the rogue group mounts an attack against the Death Star for a climactic battle with the evil Sith Lord Darth Vader.
Tickets will be available for pre-sale on July 15 at 10 a.m. and on sale to the general public on July 19 at 10 a.m.
Tickets available at the STAR Bank box office at the Embassy, ticketmaster.com, and by phone at 800.745.3000.
Presentation licensed by Disney Concerts in association with 20th Century Fox, Lucasfilm Ltd., and Warner /Chappell Music.
© 2019 & TM LUCASFILM LTD. ALL RIGHTS RESERVED