Sports In Music: Faster Higher Stronger!
Auer Performance Hall, Rhinehart Music Center, Purdue University Fort Wayne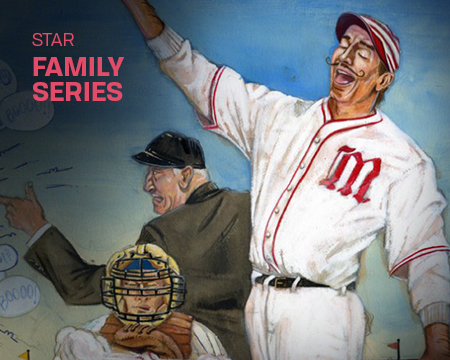 Family 4 packs available for $40!
Select four tickets and the price will be reflected in your cart.

Caleb Young, conductor
Shelby Lewis, narrator
Maya Kilburn, violin
Key — Star Spangled Banner
Tchaikovsky — Violin Concerto in D Major, Movement 3
Williams — Summon The Heroes
Sibelius — The Lonely Ski Trail
Senfter & Guenther (Arr. Ford) — Kernkraft 400
Goldsmith — Suite from Hoosiers

Reineke — Casey at the Bat
Williams — Olympic Fanfare
Wear your favorite team's jersey when you attend this fun-filled concert. Associate conductor Caleb Young and the Philharmonic will warm up with NFL sports themes and music from the Olympics before hitting a home run with Casey at the Bat, a hysterical romp for orchestra and narrator. Maya Kilburn, the 2018-19 Young Artist Competition, winner will join the orchestra in Tchaikovsky's Violin Concerto.

Join us for fun activities in the lobby starting at 1 p.m.
Appearance by Johnny Tin Cap – provided by the Fort Wayne Tin Caps
Caricaturists – provided by the TAG Art Company
Craft Station – provided by the TAG Art Company
Coloring Station
Instrument Playground – provided by the Philharmonic Friends