PHILharmonious: 80 Years of Inspiration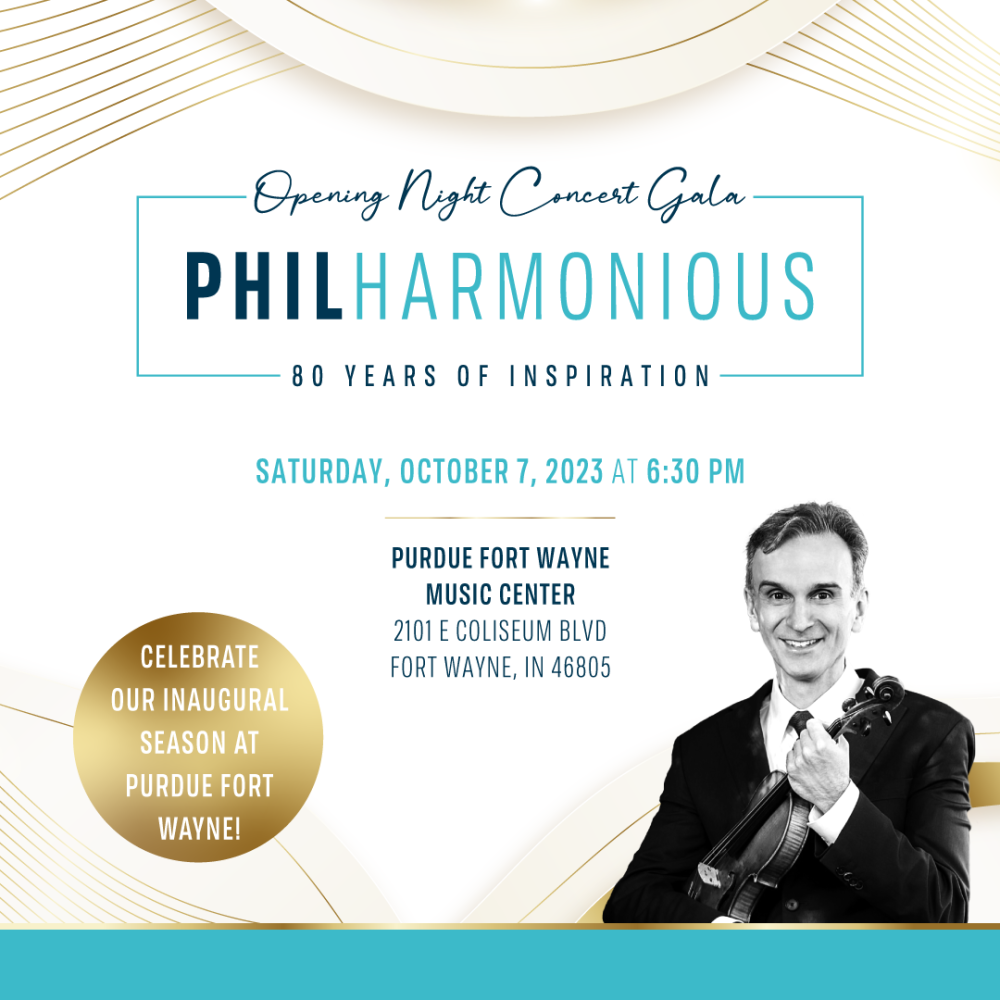 Tickets for this event are no longer available. Donations for our Opening Night are still encouraged.

Join the Fort Wayne Philharmonic in celebrating the start of its 80th anniversary season!
PHILharmonious: 80 Years of Inspiration

Saturday, October 7, 2023
Purdue Fort Wayne Music Center

The evening begins with a cocktail reception at 6:30 p.m.
Featuring the Youth Orchestra's Premier String Quartet.
Next, enjoy the 80-minute, intermission-free concert featuring world renowned violinist Gil Shaham and your Fort Wayne Philharmonic at 7:30 p.m.
The night will conclude with a light dinner, dessert, and paddle raise in support of the Philharmonic's Community Engagement programming under the stars.

For questions or help reserving your seat, please contact Janine Penner at [email protected] or (260) 481-0752.

Ride Service
Our FREE Ride Service to Masterworks Series concerts for patrons age 70 or older, and for those with qualifying medical conditions continues this season. Those interested, or looking for more information, please contact the Philharmonic Box Office at 260.422.4226. Online reservations can be made below. Contact, medical, and other qualifying information will be required.

Reserve your seat

Location: 6325 W. Jefferson Blvd., Fort Wayne, IN 46804. (Formerly Stein Mart)
Pick-up time: 5:45-6:00 p.m. guests will arrive at Purdue Fort Wayne Music Center by 6:30 p.m.
At the end of the evening activities, the bus will pick guests up from PFW Music Center at 10:30 p.m. and arrive back to 6325 W. Jefferson Blvd. by 10:50 p.m.
There will be no Musically Speaking prior to the first Masterworks performance.