Patriotic Pops at Parkview Field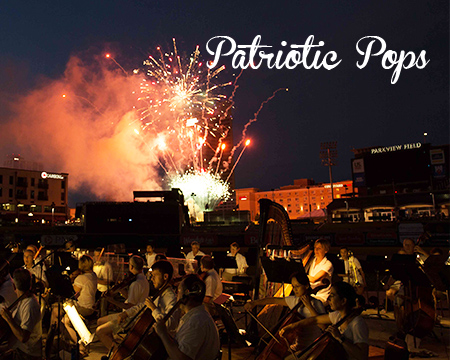 Patriotic Pops at Parkview Field
Caleb Young, conductor
Melissa Long, Narrator/Host
Free Admission to the Public - no tickets required.
Friends and family from across the region are invited to enjoy the Fort Wayne Philharmonic in a concert celebration of the American spirit. The sixth annual Fort Wayne Philharmonic Patriotic Pops at Parkview Field will take place on Wednesday, July 3, 2019, at 8:30 p.m. with fireworks accompanying the finale. Gates open at 6:00 p.m. This is a free event to the public.

Enjoy fun for the whole family—face painting, an appearance from Uncle Sam and Captain America, and free access to the Parkview Field Fun Zone activities from 6:30 p.m.
Early Access Registration
Register for early access to general admission seating starting at 5:00 p.m. and be automatically entered to win tickets and other fun prizes!
VIP Reserved Seating
Toyota Field Boxes – Located along the third-base line, these private boxes include four chairs seated at a high-top table along the third base line. Cost: $50/box - Seats 4
The Armed Forces Salute – FREE FOR THOSE WHO PURCHASE SEATING OPTIONS
Join us in recognizing your military heroes on a unique video presentation on the scoreboard prior to the performance.
Tickets must be purchased in advance. Food and beverage is additional cost.
Program
SMITH — Star Spangled Banner
WILLIAMS — Liberty Fanfare
BAGLEY — National Emblem March
ALFORD — Colonel Bogey March
COPLAND — Variations on a Shaker Melody
SOUSA — Washington Post March
BECKEL — I Am the American Flag
Melissa Long, narrator
GOULD— American Salute
WILLSON — Seventy-Six Trombones from Music Man
TRAD. (Arr. Custer) — Oh Susanna / O Shenandoah
TRAD. — Salute to the Armed Forces
VARIOUS (Arr. Hayman) — Sing Out America
IVES — Variations on "America"
FIREWORKS
WILLIAMS — Selection from Star Wars
TCHAIKOVSKY — Finale from 1812 Overture
SOUSA — The Stars and Stripes, Forever