Patriotic Pops in Kosciusko County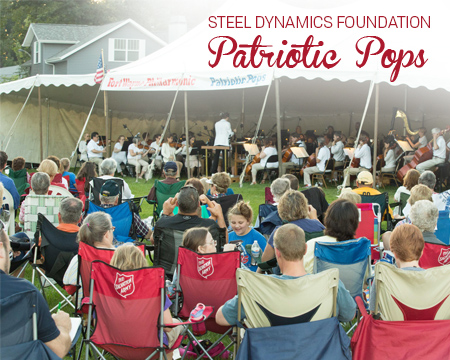 Oakwood Resort at Wawasee
702 E. Lakeview Road, Syracuse, IN
Free Admission to the Public (No Tickets Required)
Friends and family from across the region are invited to enjoy the Fort Wayne Philharmonic in a concert celebration of the American spirit. The Steel Dynamics Foundation Patriotic Pops performance in Kosciusko County at the Oakwood Resort at Lake Wawasee in Syracuse, Indiana. This is a free event to the public.
Bring your lawn chairs or blankets to enjoy this FREE outdoor concert for the whole family!
In case of inclement weather, the concert will be held at:
Wawasee High School, 1 Warrior Path, Building #1, Syracuse, IN.
The Regional Patriotic Pops Series is presented with the generous support of the Steel Dynamics Foundation. Major local support has been provided by Omer & Susan Kropf, The Salin Foundation, in memory of Bill Salin, and the Wawasee Property Owners Association.
Caleb Young, conductor
SMITH — Star Spangled Banner
WILLIAMS — Liberty Fanfare
BAGLEY — National Emblem March
ALFORD — Colonel Bogey March
COPLAND — Variations on a Shaker Melody
SOUSA — Washington Post March
TRAD. (Arr. Custer) — Oh Susanna / O Shenandoah
GOULD — American Salute
WILLIAMS — Star Wars Main Title
TRAD. — Armed Forces Salute
IVES — Variations on "America"
VARIOUS (Arr. Hayman) — Sing Out! America
TCHAIKOVSKY — Finale from 1812 Overture