Patriotic Pops at Parkview Field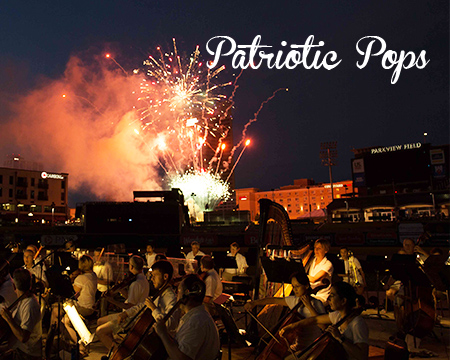 Patriotic Pops at Parkview Field
Andrew Constantine, conductor
Melissa Long, host


Reserved Tickets Required - Free Ticket Reservations Available Beginning Wednesday, June 9 at 10:00 a.m.
Fort Wayne Philharmonic welcomes the community back in a concert celebration of the American spirit. Patriotic Pops at Parkview Field will take place on Saturday, June 26 at 8:30 p.m. with fireworks accompanying the finale. Reserved tickets are required.
The concert, performed without intermission, will be conducted by Music Director Andrew Constantine and hosted by well-known Fort Wayne broadcaster and media personality Melissa Long. The performance begins at 8:30 pm, with fireworks accompanying the finale at approximately 9:40 p.m.
Specialty seating is also available:
General Bowl Seating - FREE
Suites (seating for 20) - $500
Club Seats - $30 each
Field Boxes (seating for 4) - $100
Picnic Tables (seating for 8) - $50
All seating will require reserved tickets and will be available through the Parkview Field Box Office online or in person starting on June 9, 2021 at 10:00 a.m. Gates will be open to the public at 7:00 p.m. Parkview Field's concessions will be open (no outside food or beverages are permitted), and several family-friendly pre-concert activities will be offered from 7:00 p.m. - 8:00 p.m., including free access to the Batting Cages and the Fun Zone Area. Johnny TinCap, the Fort Wayne TinCaps mascot, will be present. Masks are encouraged at all Parkview Field events; seating for this event will not be distanced. Updated Parkview Field Guidelines can be found here.
PROGRAM
KEY/ Arr. Mann/Palermo - Star-Spangled Banner
WILLIAMS - Liberty Fanfare
BAGLEY - National Emblem March
ALFORD - Colonel Bogey March
COPLAND - Variations on a Shaker Melody
SOUSA - Washington Post March
BECKEL - I Am the American Flag (With Narrator)
GOULD - American Salute
WILLSON - Seventy-Six Trombones from Music Man
TRADITIONAL - Oh, Susanna and Shenandoah from The American Frontier
HAYMAN - Armed Forces on Parade
TRADITIONAL - Sing Out America
IVES - Variations on America
Fireworks Program
STRAUSS - Introduction from Also sprach Zarathustra (in B-flat)
WILLIAMS - Segue…Star Wars: Suite No. 1: Main Title (w/cuts)
TCHAIKOVSKY - 1812 Overture (w/cuts)
SOUSA - Stars And Stripes Forever