Patriotic Pops at Parkview Field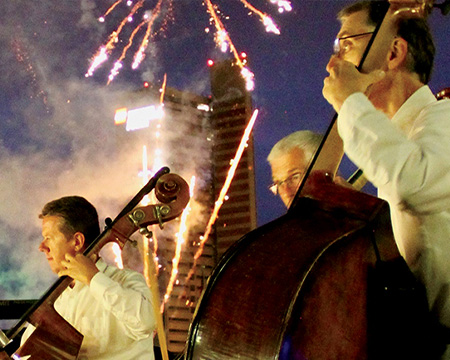 Parkview Field
1301 Ewing Street
Fort Wayne, IN 46802
Andrew Constantine, conductor
Ian Williams, host

Fort Wayne Philharmonic welcomes the community in a FREE concert celebration of the American spirit. Patriotic Pops at Parkview Field will take place on Sunday, July 3 at 8:30 p.m. with fireworks accompanying the finale. The concert, performed without intermission, will be conducted by Music Director Andrew Constantine and hosted by Ian Williams. Parkview Field venue information can be found here. Learn more about event details here. Parkview Field is a cashless venue. VIP tickets to this event are sold out.
Know Before You Go:
Gates will be open to the public for general admission seating at 6:30 p.m. No tickets are needed.
Parkview Field's concessions will be open (no outside food or beverages are permitted)
Pre-concert activities will be offered including:

Free access to the Batting Cages and the Fun Zone Area.
Johnny TinCap, the Fort Wayne TinCaps mascot
Lucktech photobooth where friends and families can capture the memories made at Parkview Field
Patriotic Pops t-shirts are also available with a $20 donation (cash only) and can be found at the Philharmonic info booth
In honor of his 100th birthday, community members and local organizations are celebrating Fort Wayne native Bill Blass, who revolutionized the fashion industry. Born and raised in Fort Wayne, Blass' signature simple yet striking designs are not only distinctly American – they are clearly tied to his upbringing in the relaxed and conservative Midwest. To learn more of Bill's legacy, click here.
PROGRAM
SMITH Star-spangled Banner
BERNSTEIN Overture to Candide
LOEWE (R. R. Bennett) Selections from My Fair Lady
LOWDEN Armed Forces Salute
CUSTER Beach Boys Medley
TRADITIONAL Sing Out America
SOUSA Liberty Bell March
WILLIAMS Liberty Fanfare
WILLIAMS Theme from Jurassic Park
GOULD Yankee Doodle
SOUSA Washington Post March
ELLINGTON L.A. Medley for Orchestra
MANN How Sweet the Sound - A Fantasy on American Hymntunes

Fireworks Set
WILLIAMS Star Wars: Suite No. 1: Main Title
TCHAIKOVSKY 1812 Overture
SOUSA Stars and Stripes Forever
Ian Williams, an Indianapolis native, is performing his first Patriotic Pops concert after appearing in the Fort Wayne Philharmonic Young People's Concerts from 2019-2022. He graduated from the University of Michigan with a Bachelor's of Musical Arts in Voice Performance and a Bachelor of Theatre Arts, before moving to Fort Wayne to perform with Heartland Sings, Inc. for several years as a Principal Vocal Artist. Ian has performed as the bass soloist in Handel's Messiah and the Fauré and Mozart Requiem, has appeared onstage with Broadway veteran J. Mark McVey (Les Misérables), and has recently performed in Stephen Paulus' opera "The Three Hermits" (Captain). Ian's other theatre credits include Ragtime (Coalhouse Walker Jr.) and Ordinary Days (Jason) with the theatre company Art 4 in South Bend, IN. He is also a co-founder of the Fort Wayne chapter of Opera on Tap, which presents casual operatic performances in bars. Other credits include participating as a finalist in the 2022 Lotte Lenya Competition, and performing his solo recital "Deep River: The Music of Black Composers" in honor of Black History Month this past February. Outside of performing, Ian is passionate about education and serves as a Unit Director at the Boys and Girls Club of Northeast Indiana. A major shout out to the BGC for inspiring and enriching children everyday in our community!
Subscribe