Patriotic Pops at Bixler Lake Park in Kendallville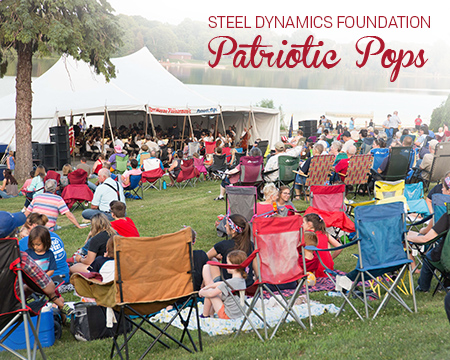 Bixler Lake Park
221 S. Park Avenue, Kendallville, IN
Free Admission to the Public (No Tickets Required)
Friends and family from across the region are invited to enjoy the Fort Wayne Philharmonic in a concert celebration of the American spirit. Presented by the City of Kendallville, the Patriotic Pops performance in Noble County will take place on July 4 at 8:30 p.m. at Bixler Lake Park in Kendallville, Indiana.
Bring your lawn chairs or blankets to enjoy this FREE outdoor concert for the whole family! Current social distancing and mask guidelines will be in place.
Offsite parking is available at the East Noble High School with free shuttle service available from 6:30 p.m., operated by Noble Transit.
Rain Site: East Noble High School, 901 Garden St, Kendallville, IN
PROGRAM
Troy Webdell, conductor
KEY (Skrowaczewski) Star Spangled Banner
WILLIAMS Liberty Fanfare
BAGLEY National Emblem March
ALFORD Colonel Bogey March
COPLAND Variations on a Shaker Melody
SOUSA Washington Post March
TRADITIONAL Oh, Susanna and Shenandoah from The American Frontier
GOULD American Salute
WILLIAMS Star Wars: Suite No. 1: Main Title
HAYMAN Armed Forces on Parade
IVES (Orchestrated by William Schuman; originally for organ.) Variations on America
TRADITIONAL Sing Out America
TCHAIKOVSKY 1812 Overture
SOUSA Stars And Stripes Forever
FORT WAYNE PHILHARMONIC
VIOLIN 1
1 Violetta Todorova
Johanna Bourkova-Morunov
2 Timothy Tan
David Ling
3 Marcella Trentacosti
Alexandra Tsilibes
4 Pablo Vasquez
Kristin Westover
VIOLIN 2
1 Betsy Gephart
Michael Acosta
2 Tomer Marcus
Colleen Tan
3 Janet Guy-Klickman
Linda Kanzawa
4 Emelinda Escobar
Shana Brath
VIOLA 3
1 Derek Reeves
Debra Welter
2 Bruce Graham
Debra Graham
3 Theodore E. Chemey, III
Liisa Wiljer
CELLO
1 Andre Gaskins
Martin Meyer
2 David Rezits
Brian Klickman
3 Martyna Bleke
BASS
1 Adrian Mann
Kevin Piekarski
2 Brian Kuhns
Andres Gil
FLUTE
Vivianne Belanger
Tricia Reeves
Hillary Feibel
OBOE
Pavel Morunov
Alex Liedtke
John Snyde
CLARINET
Campbell MacDonald
Cynthia Greider
Laurie Blanchet
BASSOON
Dennis Fick
Anne Devine
HORN
Michelle Hembree
Charlotte O'Connor
Michael Galbraith
Katie Loesch
TRUMPET
Andrew Lott
Daniel Ross
Akira Murotani
Ethan Wood (asst.)
TROMBONE
Brian Johnston
Kevin Dombrowski
Andrew Sharkey
TUBA
Terry Solomonson
TIMPANI
Todd Sheehan
PERCUSSION
Alison Chorn
Kevin Kosnik
Kirk Etheridge
HARP
Anne Preucil Lewellen
KEYBOARD / EXTRA
Alexanader Klepach - keyboard
AMERICA, THE BEAUTIFUL
O beautiful for spacious skies
For amber waves of grain
For purple mountain majesties
Above the fruited plain
America, America
God shed His grace on thee
And crown thy good with brotherhood
From sea to shining sea

MY COUNTRY! 'TIS OF THEE
My Country! 'tis of thee
Sweet land of liberty
Of thee I sing
Land where my fathers died
Land of the Pilgrims' pride
From ev'ry mountainside
Let Freedom Ring!

YOU'RE A GRAND OLD FLAG
You're a Grand Old Flag
You're a high flying flag
And forever in peace may you wave
You're the emblem of the land I love
The home of the free and the brave
Ev'ry heart beats true
'Neath the Red, White and Blue
Where there's never a boast or brag
But should auld acquaintance be forgot
Keep your eye on the grand old flag

BATTLE HYMN OF THE REPUBLIC
Mine eyes have seen the glory of
the coming of the Lord
He is trampling out the vintage where
the grapes of wrath are stored,
He has loosed the fateful lightening
of His terrible swift sword
His truth is marching on.
Glory! Glory! Hallelujah!
Glory! Glory! Hallelujah!
Glory! Glory! Hallelujah!
His truth is marching on.

GOD BLESS AMERICA
God bless America, land that I love
Stand beside her and guide her
Through the night with the light
from above
From the mountains to the prairies
To the oceans white with foam
God bless America,
my home sweet home
God bless America,
my home sweet home