Auer Performance Hall, Rhinehart Music Center, Purdue University Fort Wayne
Buy Tickets
MASKS ARE REQUIRED AT THIS PERFORMANCE, PER VENUE POLICY.

Catherine O'Shaughnessy, conductor
Take "One Giant Leap" into outer space with the Philharmonic in a program of classics and new selections including Holst's The Planets, 2001: A Space Odyssey, E.T, Star Trek, and Star Wars. Enjoy mobile space exhibits in the Auer Hall lobby prior to the concert, provided by Science Central. Concert length is approximately 50 minutes.
Strauss, R. - Introduction to Also Sprach Zarathustra (2001 Main Theme)
Horner - Apollo 13 Suite
Williams - E.T. Flying Theme
Debussy - Clair de Lune
Holst - Mars from The Planets
Holst - Jupiter from The Planets
Various - Star Trek Medley
Williams - Imperial March from Star Wars
Williams - Main Theme from Star Wars
FORT WAYNE PHILHARMONIC
VIOLIN 1
1 Violetta Todorova
Timothy Tan
2 Alexandra Tsilibes
Pablo Vasquez
3 Kristin Westover
Michael Acosta

VIOLIN 2
1 Betsy Gephart
David Ling
2 Tomer Marcus
Joachim Stepniewski
3 Marcella Trentacosti
Linda Kanzawa

VIOLA
1 Derek Reeves
Debra Welter
2 Bruce Graham
Debra Graham

CELLO
1 Peter Opie
Deborah Nitka Hicks
2 Elizabeth Lee
Jane Heald
Brian Klickman

BASS
1 Adrian Mann
Brian Kuhns
2 John Tonne

FLUTE
Luke Fitzpatrick
Vivianne Belanger
Amanda Blaikie

OBOE
Orion Rapp
Stephanie Patterson
Pavel Morunov

CLARINET
Laurie Blanchet
Dan Healton
Gavin Arnold

BASSOON
Dennis Fick
Anne Devine

HORN
Michael Galbraith
Kenji Ulmer
Amy Krueger
TBD

TRUMPET
Andrew Lott
Daniel Ross
Akira Murotani

TROMBONE
Brian Johnston
Kevin Dombrowski
Andrew Hicks

TUBA
Matt Lyon

TIMPANI
Eric Schweikert

PERCUSSION
Alison Chorn
Kevin Kosnik
Kirk Etheridge

HARP
Anne Preucil Lewellen

KEYBOARD / EXTRA
Alexander Klepach - keyboard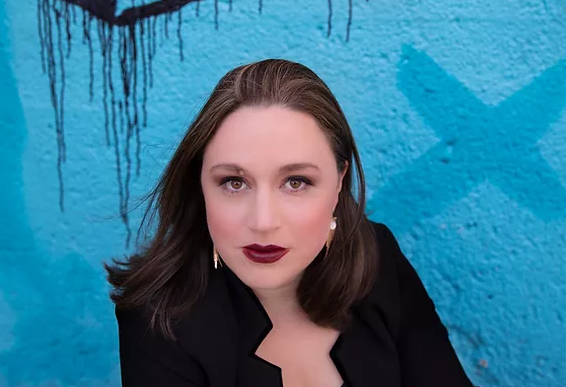 Catherine O'Shaughnessy is a rising orchestral and opera conductor in the United States and abroad. Her performances have earned rave reviews from the Chicago Tribune, the Chicago Classical Review ("great skill, alertness and sensitivity"), and Vocal Arts Chicago ("resourcefulness…scrappiness and...fierce concentration"). Avidly committed to Chicago's dynamic opera scene, she is currently the music director of Chicago Fringe Opera—the city's "alt-opera company" (John von Rhein, Chicago Tribune). Fringe brings to life recent English-language works in immersive, site-specific and experiential settings; featured composers have included Missy Mazzoli, Philip Glass, and William Bolcom. Catherine has also led with several other area companies, including The Floating Opera Company and Opera On Tap.

In the past year, Catherine has appeared in concert with the Orpheus Kammerorchester Wien and the Orquesta Filarmónica de Gran Canaria. She was assistant conductor at the 7th Varna International Opera Academy in Varna, Bulgaria, and made her New York debut conducting Antonio Salieri's La Cifra with the dell'Arte Opera Ensemble. In Chicago, she conducted North Park University's production of Massenet's Cendrillon and the world premiere of Ross Crean's The Great God Pan with Chicago Fringe Opera.

A semi-finalist in the 2016 Spazio Musica International Conducting Competition, Catherine founded Windy City Opera and worked as music director for its productions of La Bohème and Don Pasquale. She has music directed Pyramus and Thisbe in Freiberg (Mittelsächsisches Theater), and conducted Don Giovanni and La Traviata in Orvieto, Italy (Teatro Mancinelli). As an orchestral conductor, Catherine has appeared in performance with the Rousse Philharmonic (Ruse, Bulgaria), the Rose City Chamber Orchestra (Portland, Oregon), and the Atlantic Coast Symphony (Esposende, Portugal). In 2013 she conducted the Moscow Philharmonic Orchestra at a sold-out performance in Tchaikovsky Hall, and in 2017 she guest-conducted the Piccadilly Symphony Orchestra (Manchester, UK).

Catherine holds a Doctor of Musical Arts degree in orchestral and opera conducting from Arizona State University, where she was a student of William Reber and Timothy Russell. She also earned a Master of Music in orchestral conducting from Bowling Green State University (studying with Emily Freeman Brown) and a Bachelor of Music in music theory from the University of Michigan, Ann Arbor (with Kenneth Kiesler). She has been fortunate to participate in masterclasses and workshops with Gustav Meier, Maurizio Arena, Yuri Simonov, Colin Metters, Johannes Schlaefli, Karel Mark Chichon, and Donato Renzetti.
Subscribe