Holiday Pops in Whitley County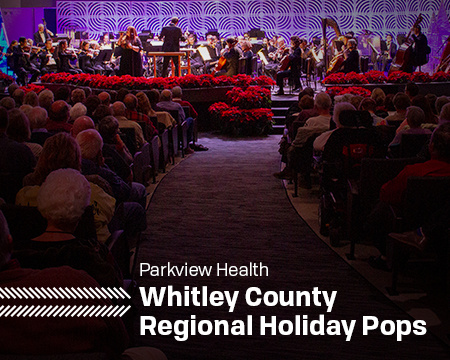 Take a journey through the winter wonderlands and traditional Christmases of bygone days right up to the present, in an entertaining concert of traditional and contemporary favorites.
The Parkview Health Regional Holiday Pops performance in Whitley County will take place on Sunday, December 22, 2019 at 7:00 p.m. at the First Church of God in Columbia City, Indiana.
First Church of God
1200 Depoy Drive, Columbia City, IN 46725
Tickets are $15 for adults and $10 for children under 12. Processing fees apply.
Caleb Young, conductor
Stephanie Carlson, soprano
Traditional (Jackfert) — I Saw Three Ships
Pierpont — Jingle Bells
Stephanie Carlson, Soprano
O'Kun — The Best Gift
Stephanie Carlson, Soprano
Callaway — Christmas Lullaby
Stephanie Carlson, Soprano
Tiomkin — Suite From It's A Wonderful Life
Marks (Richard Hayman) — Rudolph The Red Nosed Reindeer
Schubert — Ave Maria
Stephanie Carlson, Soprano
Anderson — Sleigh Ride
-- Intermission --
Coleridge-Taylor — Christmas Overture
Berlin — White Christmas
Stephanie Carlson, Soprano
Wendel — Overture To A Merry Chrismas
Adam — O Holy Night
Stephanie Carlson, Soprano
Jessel — Parade Of The Wooden Soldiers
Traditional (Stephenson) — A Holly And Jolly Sing-Along

DONATE