Go Live: Spotlight on the Arts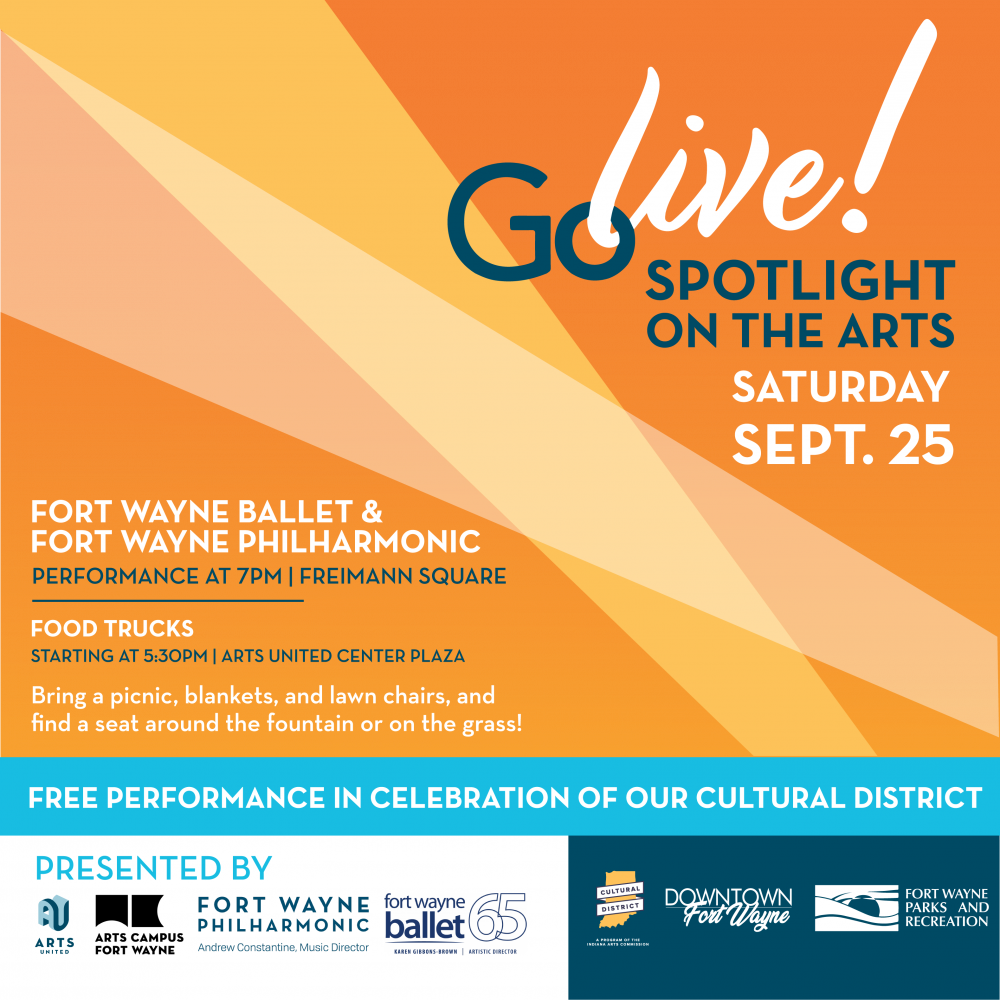 Freimann Square, 200 E. Main St., Fort Wayne, IN 46802
In case of inclement weather, the performance will be moved inside to Arts United Center.

Free outdoor concert at Freimann Square to celebrate the state-wide designation of Arts Campus Fort Wayne as a cultural district. Hosts for the program will be the Philharmonic's guest conductor for engagement, Caleb Young, and Karen Gibbons-Brown, artistic director of Fort Wayne Ballet. Works by de Falla, Offenbach, Copland, Khachaturian, and Stravinsky will be featured, with the centerpiece of the concert being selections from Act III of Tchaikovsky's Sleeping Beauty ballet.

Audiences are encouraged to bring picnics, blankets, and lawn chairs, and will find seating around the Fountain or on the grassy areas adjacent to Freimann Square. Thanks to the Downtown Improvement District, food trucks will be present on the Plaza beginning at 5:30 p.m., with a limited number of complimentary tables and chairs being provided.
Click here to view the press release.
PROGRAM
Fort Wayne Philharmonic Orchestra
Caleb Young, conductor
Fort Wayne Ballet
de Falla - El amor brujo: Ritual Fire Dance (Orchestra)
Tchaikovsky - Selections from Sleeping Beauty, Act III (Ballet and Orchestra)
Ballet choreography: after Petipa
Puss-N-Boots and the Little White Cat
Dancers: Amanda Eve Carrick and Yu-Chieh Chao
The Bluebird Pas de Deux
Dancer: Abby Zinsser and Talbot Rue
Little Red Riding Hood and the Wolf
Dancers: Jessica Humphrey and Graeham Toomey
Princess Aurora and Prince Charming Grand Pas de Deux
Dancers: Amber Bailey and David Claypoole
Offenbach - Orpheus in the Underworld (Orchestra)
Copland - Hoe-Down from Rodeo (Orchestra)
Khachaturian - Adagio from Spartacus (Ballet and Orchestra)
Ballet choreography: Grigorivich
Staged by: Eleanora Hartung
Ballet dancers: Carmie Schiano Nelson and Thomas Caleb Roberts
Stravinsky - Infernal Dance and Finale from The Firebird (Orchestra)
FORT WAYNE PHILHARMONIC
VIOLIN 1
1 Violetta Todorova
Johanna Bourkova-Morunov
2 Timothy Tan Michael Acosta
3 Tomer Marcus
Joachim Stepniewski
VIOLIN 2
1 Betsy Gephart
David Ling
2 Marcella Trentacosti
Alexandra Tsilibes
3 Pablo Vasquez
Colleen Tan
VIOLA
1 Derek Reeves
Debra Welter
2 Bruce Graham
Debra Graham
CELLO
1 Andre Gaskins
Deborah Nitka Hicks
2 David Rezits
Elizabeth Lee
3 Jane Heald
BASS
1 Adrian Mann
Kevin Piekarski
2 Brian Kuhns
FLUTE
Luke Fitzpatrick
Rachel Blumenthal
Hillary Feibel
OBOE
Orion Rapp
Pavel Morunov
Jennet Ingle
CLARINET
Campbell MacDonald
Laurie Blanchet
Gavin Arnold
BASSOON
Dennis Fick
Anne Devine
HORN
Renee Vogen
Katie Loesch
Michael Galbraith
Kenji Ulmer
TRUMPET
Andrew Lott
Mark Dulin
Akira Murotani
Gavin Brehm
TROMBONE
Brian Johnston
Kevin Dombrowski
Andrew Hicks
TUBA
Matthew Lyon
TIMPANI
Eric Schweikert
PERCUSSION
Alison Chorn
Kevin Kosnik
Kirk Etheridge
HARP
Anne Preucil Lewellen
KEYBOARD / EXTRA
Alexander Klepach - keyboard