Tune in for a wide variety of Philharmonic favorites offered just for you. From Musically Speaking Online Sessions, to WBNI/WBOI Weekly Programs and Educational Resources, there is something for everyone.
Please consider the role music plays in your life and support the music you love with a gift of any amount. Click here to support the future of the Philharmonic today.
Fort Wayne Philharmonic Musicians coming to you!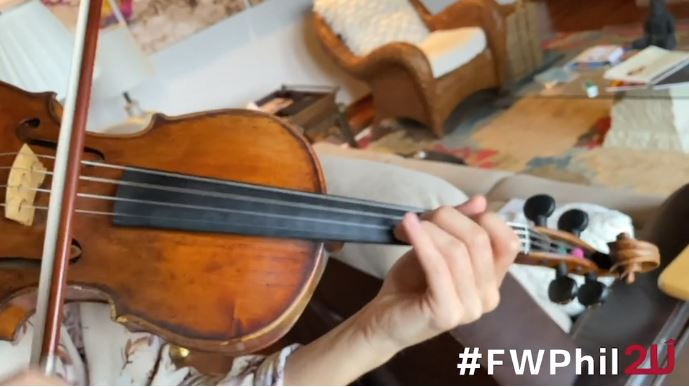 Concertmaster Violetta Todorova performs "Quasi Una Cadenza" by living British-French-Israeli composer Nimrod Borenstein - composer and tells us what she is looking forward to next season.
Chance Trottman-Hueit, tuba
Excerpt from Bach's Partita in A minor for solo flute played on Tuba

Alex Laskey, horn
Arrangement of Aerosmith's classic power ballad Dream On

Brian Johnston, trombone
Trombone excerpt from Respighi's Pines of Rome, 2nd Movement

Fort Wayne Philharmonic Brass Quintet
Andy Lott - Trumpet
Dan Ross - Trumpet
Alex Laskey - Horn
Andy Hicks - Trombone
Chance Trottman-Hueit – Tuba
Somewhere Over the Rainbow written by Harold Arlen, arranged by Taylor Williamson

Martin Meyer, cello
Bach's Cello Suite No. 3 in C Major, Bourrée I and II

Freimann Quartet
Violetta Todorova, violin
Christine Chon, violin
Derek Reeves, viola
Andre Gaskins, cello
finale of Mozart's D major quartet, K. 15