Constantine Conducts Shostakovich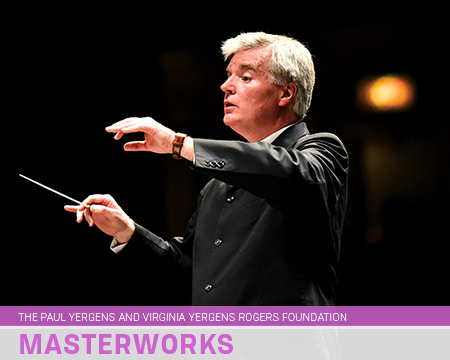 Program notes

Prelude

Andrew Constantine, conductor
Alison Chorn and Eric Schweikert, timpani
Music Director Andrew Constantine takes on one of the greatest symphonies in the repertory, Shostakovich's 5th. Heroic, meditative, and even humorous, the Symphony's premiere was so successful it received an ovation that lasted well over half an hour.
Garrop - Inner Demons
Oliverio - Dynasty: Double Timpani Concerto
Impetuous
Naivite
Interlude
Ancestors Within
Destiny
Alison Chorn, timpani
Eric Schweikert, timpani
Shostakovich - Symphony No.5 in D minor, Op.47
I. Moderato
II. Allegretto
III. Largo
IV. Allegro non troppo

For venue policies click here.
Eric Schweikert joined The Phil as Principal Timpani in September 1989. Eric is also a Phil Mentor on faculty and in partnership with the PFW Department of Music.
Born in West Point, N.Y., he grew up in Chicago and began playing cello at age 8 and percussion at age 12. He also plays E-flat tenor/alto horn in the Old Crown Brass Band. He is Director of Percussion at PFW and is Principal Percussion and Director of Percussion Ensemble at the Eastern Music Festival. A graduate of Interlochen Arts Academy, Schweikert has a Bachelor of Music from the Cleveland Institute of Music. He also attended the Julliard School of Music.
His previous orchestra positions were timpanist with the New World Symphony and acting principal timpanist with the Victoria Symphony in British Columbia, Canada. In addition, he has toured and played with the Chicago Symphony and the St. Paul Chamber Orchestra and has played with the Indianapolis, Cleveland and Cincinnati symphonies. In his leisure time, Schweikert enjoys golf, fly fishing and camping.
Alison Chorn joined the percussion section of the Fort Wayne Philharmonic in 2013. Prior to moving to Fort Wayne, she was Principal Percussion of the Mansfield Symphony Orchestra in Mansfield, Ohio.
Her active orchestral career has included appearances with the Cleveland Orchestra, the Minnesota Orchestra, the Buffalo Philharmonic, the Indianapolis Symphony, and the Toledo Symphony. Alison earned a Bachelor of Music degree from Cleveland State University in 2014 and spent summers at the Aspen Music Festival, Music Academy of the West, and the Eastern Music Festival.
A passionate educator, Alison is Guest Lecturer in Percussion at Purdue University Fort Wayne (PFW), and coaches the percussion section of the award-winning Columbia City High School Marching Band. A native of St. Paul, Minnesota, Alison began her musical studies in piano at with Zhenya DeVol at age seven. She studied percussion with Fernando Meza of the University of Minnesota, Kevin Watkins of the Minnesota Orchestra, and Tom Freer of the Cleveland Orchestra.
Series Sponsors

Event Sponsors
Kevin and Tamzon O'Malley