Holiday Pops in Steuben County
T. Furth Center for Performing Arts, Trine University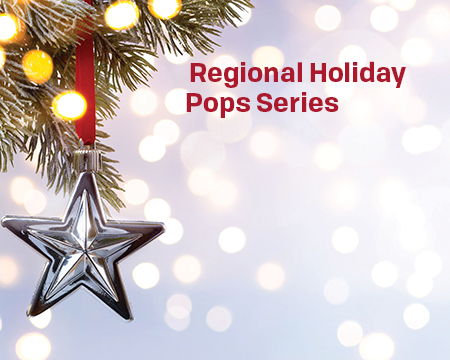 Take a journey through the winter wonderlands and traditional Christmases of bygone days right up to the present, in an entertaining concert of traditional and contemporary favorites, featuring the Philharmonic and soloist Stephanie Carlson.
The Holiday Pops performance in Steuben County will take place on Sunday, December 9, 2018 at 2 p.m. at the T. Furth Center for the Arts, Trine University, in Angola, Indiana.
Tickets start at $35 and are available from the T. Furth Center Box Office, 260-665-4990 or online. Doors open to the public for general admission seating at 1:30 p.m.
T. Furth Center for the Arts, Trine University
N Darling St, Angola, IN 46703
PROGRAM
Caleb Young, conductor
Stephanie Carlson, soprano
CASE – Rocket Sleigh
CHASE – Christmas Favorites
MARTIN AND BLANE – Have Yourself a Merry Little Christmas
Stephanie Carlson, soprano
BERNARD – Winter Wonderland
SCHUBERT – Ave Maria
Stephanie Carlson, soprano
TAYLOR, BROOKS & STANLEY – The Man with the Bag
Stephanie Carlson, soprano
LAURIDSEN (Arr. Dackow) – O Magnum Mysterium
ANDERSON – Sleigh Ride
-- Intermission --
CHASE – Around the World at Christmas Time
HARRIS – O Little Town of Bethlehem
CAREY – All I Want for Christmas is You
Stephanie Carlson, soprano
HERBERT – Babes in Toyland: March of the Toys
ADAM – O Holy Night
Stephanie Carlson, soprano
STEPHENSON – A Holly and Jolly Sing-Along
The Holiday Pops Tour is made possible with generous support from series sponsor, Parkview Health.
The Holiday Pops in Steuben County also made possible by Trine University, Chuck & Lisa Surack and Sweetwater, Cameron Memorial Community Hospital and Croxton & Roe Insurance Services.