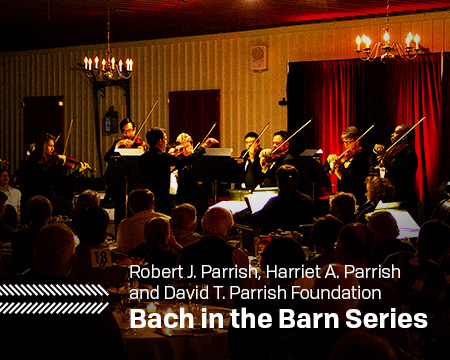 Caleb Young, conductor
Violetta Todorova, violin
Orion Rapp, oboe
Bach in the Barn is designed to be an intimate listening experience in a bucolic setting. Audiences will be seated at candlelit tables, with wine and desserts included in the ticket price.
Location
Joseph Decuis Farm
6755 East 900 South
Columbia City

Members of the Philharmonic will feature a program of stunning music by J.S. Bach and his contemporaries. Choose the date that's best for you, or come to all three!
PROGRAM
C.P.E. Bach — Symphony in E minor, H.653 Wq 178 "Fandango"
J.S. Bach — Concerto for Oboe and Violin in C minor, BWV 1060R
Orion Rapp, oboe
Violetta Todorova, violin
Intermission
J.S. Bach — Prelude and Fugue in Eb major ("St. Anne"), BWV 552
Rameau — Les Boréades-Entrée de Polymnie
Stravinsky — Dumbarton Oaks
Subscribe
Event Sponsors