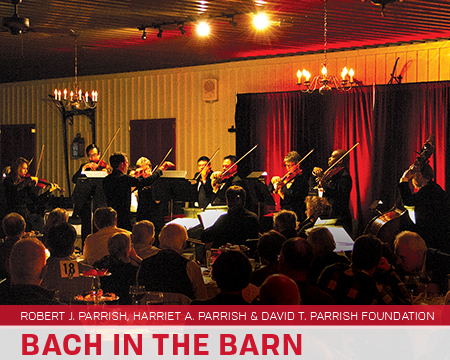 Prelude

Andrew Constantine, conductor
Bach in the Barn is an intimate listening experience in a countryside setting. Audiences will be seated at candlelit tables, with wine and desserts included in the ticket price. Tickets are $75
The program for Bach in the Barn May 5-7, 2022 will be the same at all three dates.
Location
Joseph Decuis Farm
6755 East 900 South
Columbia City
Lully - Marche pour la ceremonie des Turcs from Le bourgeois gentilhomme
Albinoni - Concerto a 5 in A minor, Op. 5, No. 5
Allegro
Adagio
Allegro
Corelli - Concerto Grosso in C minor, Op. 6, No. 3
Largo - Allegro
Grave - Vivace
Allegro
C. P. E. Bach - Sinfonia in G Major, Wq. 182/1, H. 657
Allegro di molto
Poco adagio
Presto
Haydn - Symphony No. 6 in D major, "Le Matin"
I. Adagio - Allegro
II. Adagio - Andante - Adagio
III. Menuet
IV. Allegro

For venue policies click here.
Subscribe