PHILharmonious Gala & Auction
PHILharmonious: Building a Bright Future
September 24, 2020 6:00 – 10:00 p.m.
On Thursday, September 24, 2020 the Fort Wayne Philharmonic will host its annual gala PHILharmonious in support of education and community engagement programs. The theme this year is Building a Bright Future, celebrating the Philharmonic's next 75 years of building a future filled with glorious music on behalf of all in Northeast Indiana.
Once again, our gala will be held at The Clyde Theatre, the art deco masterpiece and multi-functional concert hall and special events center. The Clyde will provide a "second to none" backdrop for a gourmet dinner, entertainment, live and silent auctions, and an exciting visual and illuminating spectacle, complete with some of the best acoustics in the world.
Help us celebrate the Philharmonic as we build a bright future for the next 75 years!
Thursday, September 24, 2020
The Clyde Theatre, 1808 Bluffton Road, Fort Wayne, IN 46809
Event Details To Come
For more information or to sponsor, please contact: Ann Cavalancia at acavalancia@fwphil.org.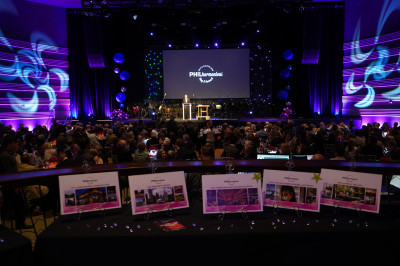 Last year, PHILharmonious was extremely successful thanks to our wonderful sponsors, donors, and attendees!