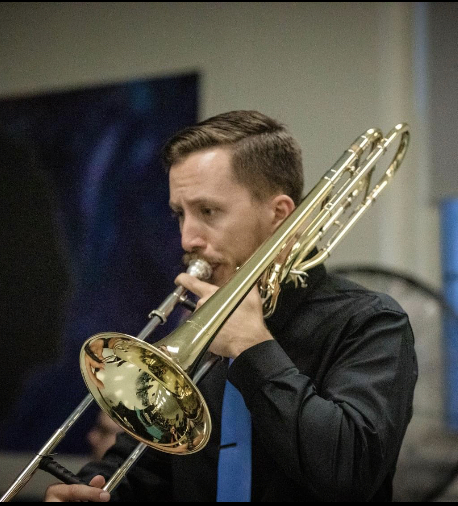 Kevin Dombrowski is the Adjunct Professor of Music in Trombone at Valparaiso University. He holds degrees from the Eastman School of Music (BM) and the Yale School of Music (MM). His principal teachers include Scott Hartman, Dr. John Marcellus, Lisa Albrecht, and Timothy Riordan. Upon completion of his Masters degree at the Yale School of Music, Mr. Dombrowski was the Assistant Principal trombonist with the Sarajevo Philharmonic Orchestra in Sarajevo, Bosnia and then continued on to play Principal Trombone with the SONG Symphony Orchestra in Seoul, Korea. He also lead the SONG Symphony Orchestra brass quintet. He moved back to Chicago in 2016, and since then has held the position of Second Trombone with the Illinois Symphony Orchestra, Principal Trombone with The Symphony of the Lakes, and frequently plays with the Fort Wayne Philharmonic. He has also played with the West Virginia Symphony, Owensboro Symphony, Lexington Philharmonic, National Repertory Orchestra, Chautauqua Symphony Orchestra, Peoria Symphony Orchestra, Cayuga Chamber Orchestra, and has played at the Lake George Music Festival in Lake George, New York since 2019.
Mr. Dombrowski has competed in many competitions both as a chamber musician and soloist all the way back to his days in high school. He played with The Bone Rangers with whom he won competitions such as the Rembrandt Chamber Players Chamber Competition, Midwest Young Artists Chamber Competition, and competed at the Fischoff Competition. He has played on national television and radio and has been featured multiple times on From the Top as well as Chicago's WFMT series Introductions. With the Handsome Dans Trombone Quartet, he won the Eastern Trombone Workshop quartet competition and subsequently performed a winner's recital with that group at the festival. He has also taught and given masterclasses at Louisiana State University. Mr. Dombrowski has soloed with orchestras in the United States and abroad including the Sarajevo Philharmonic Orchestra, SONG Symphony Orchestra, Wheaton Municipal Band, and Chicago Metropolitan Symphony Orchestra. He was also a finalist in the Gilberto Gagliardi solo competition that was held in Aarhus, Denmark and semi finalist at the Jeju International Brass competition in Jeju, Korea.
Mr. Dombrowski is also an accomplished music arranger. His arrangements have been published and are available through Cherry Classics. Aside from music, Kevin loves to play golf and hockey, enjoy time on the water, and spend quality time with his family and friends.